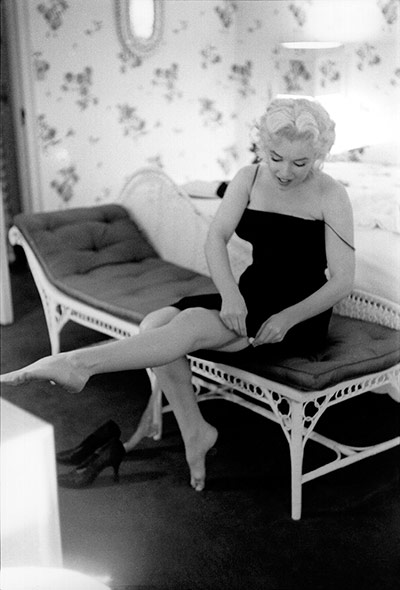 Marilyn Monroe courtesy of Michael Ochs Archives/Getty Images
Remember when blondes used to have more fun? It seemed like every movie star was dying her hair blonde and magazine covers all had blondes splashed across them. Now, while there is more diversity encouraged among actresses, singers, and models, a special jewel seems to have emerged at the top.
The redhead.
Dyed redheads are super popular too, but the natural redhead remains the most coveted of all. Why the sudden fascination? Why are women scrambling to buy red dye from a box or a salon? Is it a feeling of empowerment and bold sexuality that accompanies the color? Or is it something else?
Few people who are not naturally red or strawberry blonde can pull off the switch to a red color. I dyed my hair a nice, vibrant mahogany-ish color once when I was 12. With my Mediterranean/Native American tanned complexion (though I am not Mediterranean and not very Native American) it looked FABULOUS on me. Just kidding, it looked awful. I won't ever do it again, I promise.
Karen Gillan, a stunningly lovely natural ginger
Both of my grandmothers had red hair and my mother has lovely jade green eyes (but brown hair) and I always feel like I missed out on the DNA lotto. My sisters managed to snag her eyes but my brothers and I were left out. I've cherished her green eyes for years, but no amount of wishing has ever lightened my eyes or made them magically turn green.
I do wonder if our sudden fascination has anything to do with the Harry Potter culture-the red hair and green eyes that were so special and cherished in the storyline that wound its way through a generation of new, young readers. These readers have grown up and started what seems to be an "invasion" of British-isms. These are a generation of people who enjoy British television, books, music, talk radio, colloquialisms, and fashion. If we idolize the minds and words of those across the pond, why not their looks?
My ultimate badass crush- Michelle Rodriguez
Most of the world has brown eyes and brown hair, traits which are beautiful in their own right- but it seems like not many people are happy with what they have, and are constantly reaching to change themselves into something more "special and unique." I'm not saying that I fall on the outside. I love being "special," being noticed. But I'm not a redhead- I don't have green eyes. Sometimes you just gotta let DNA do its thing.
In the meantime I'm lucky in that I'm a gay lady and enjoy looking at pretty girls who are special and unique.
Aishwarya Rai- one of the most beautiful women in the world, and Jamie Chung- current TV love who is heating it up on ABC's Once Upon A Time




Kerry Washington is lighting up DC with her gorgeous face in Scandal and just try to tell me you're not in love with Grace Park, a smokin' hot lady you might recognize from Hawaii Five-O




ABC's Nashville LadyCrush- Connie Britton Along with my favorite smiling girl TaySwift




I will stand under your Umbrella.